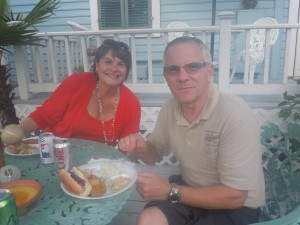 John Zempter Eanes is the fourth generation of his family to live at 1813 24th Street in the Silk Stocking District!  His great grandfather, James Zempter, moved to Galveston in 1900 to be a part of the rebuilding after the Great Storm.  In 1903, he and W.H. Janssen formed a contracting company, Janssen & Zempter Contractors and Builders.  In 1906, he bought lots for sale on 24th Street and began building his own home at 1813 24th Street in the tradition of the Queen Anne period. Built with cypress wood, the home was painted in traditional white with green shutters and windows.  It was also in 1906 that he married Agnes Mary Webb and they had their only child, Shelby Ida Zempter, John's grandmother.  After the dissolution of his partnership with Janssen, Jim formed his own company, J.W. Zempter Contracting; it prospered along with the growing town of Galveston.  In 1928, major renovations were undertaken that forever altered the facade.  The front door was moved to the center of the home and a vestibule was added in front of the door.  Additionally, 2/3's of the upstairs porch was taken into the front bedroom facing 24th Street and only the northern 1/3 of the upstairs porch remains to this day.  After the 1915 storm, Jim expanded the building on his lots by constructing four homes on Avenue P, adjacent to the main house.  They were build as rental property and are owned by the Zempter-Eanes family to this day.  Jim Zempter died in his beloved home in 1964 and was proud to say nothing he ever built in Galveston was destroyed by hurricanes or other acts of God.  His wife and his daughter, Shelby Zempter Eanes Mowat, continued to live in the home until their deaths
John moved to Galveston to work and moved into the home as the 4th generation.  He quickly became a true Galvestonian.  One month after his arrival, Hurricane Alicia struck.  As a testament to the skills of his great grandfather, the house sustained little damage.  John began extensive upgrades of the home's plumbing, electrical systems, air conditioning and kitchen.  A powder room and rear deck were added as well.  In 2001, John had the great good sense to marry Lynn, and together, they began to redecorate the home with antique pieces from both families.  Upstairs bedrooms include the wedding gift furniture of his great grandmother and his grandmother Shelby's dressing table and dresser.  John continues a family tradition of living and working in Galveston.  He started Galveston Automotive Professionals, and in 2000, he relocated his business from 23rd Street to the current location of 1918 Mechanic.  Twenty-five years in business, the Eanes family always laughs at the fact that John is a mechanic on Mechanic!  
John and Lynn are active members in our Silk Stocking District; Lynn serves as membership chair this year and always opens their home to our board and our neighbors.  It is truly a show place, replete with generations of family heirlooms and a rich history.  More than that, it is cared for with such love and appreciation for James W. Zempter.  Isn't his family such a tribute to the visionary and hardworking generations of the people of our island?!