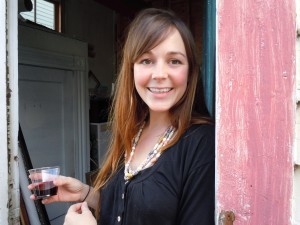 Our lovely and talented Catherine Stroud, 1412 25th Street, is such a charming addition to our island!  Born in Colorado and the second of five children, Catherine grew up in the Woodlands.  She attended The John Cooper School where she played the flute (first chair , of course!) and was a competitive horseback rider.  Catherine graduated cum laude from Vanderbilt University with a major in French and European Studies.  She moved to France after graduation to teach English to children ages 3-12.  She then moved to Nice for two years, again to teach English.  Catherine spent time in over a dozen countries, traveled the circumference of the globe, only to land just 70 miles from where she begangoodness, a lot of living in 28 years!
In 2009, Catherine moved to Galveston, where she began building custom furniture with reclaimed lumber.  However, her focus now is on fine arts; many of her original paintings are hanging in the Galveston Art League, The Vanishing Point Wine Bar and Cafe, Mod Coffee Shop, and Island Music.
Catherines home on 25th was a very haunted house when she moved in; she is glad to report that after a MTV camera crew came through with their psychic, all has been calm!  She has recently purchased an 1877 shotgun cottage, 2523 Winnie, and is working to restore it to be used as a community arts house.
This exceptionally  talented resident of our District has served as membership chair, gracious hostess when needed, and the Districts GHF representative.  She gives of her talent freely to a variety of non-profit organizations as well; when asked to contribute donations to silent auctions, she simply says, Id love to!  So glad she is in our midst, this beautiful horse riding, flute playing, furniture building, artist!
[mappress mapid=3]